Ending the Foster Care Crisis one child at a time!
Stable Moments™ is a 10-month, weekly mentorship program where foster and adopted children achieve individualized life goals through Trauma Informed Equine Assisted Learning (TI-EAL). Through a trauma informed lens, the principles of neuropsychology are woven into each session and the effects of trauma are reduced to create lasting change. The model utilizes volunteer mentors and PATH Intl Certified Equine Specialists in Mental Health and Learning to facilitate sessions. Job readiness skills will be taught to older teens and young adults who are getting ready to age out of the foster care system by preparing them for successful employment. This program will improve stability and expand support to children and their care takers to ensure every young person from foster care in Orange, Ulster and Sullivan County is ready to move forward in a positive direction. Bringing horses and youth together, in a one-on-one mentorship program, allows the child to build life skills and relationships that will aid them in healing from trauma, building resiliency and transitioning into a healthy adulthood.

Volunteer as a Mentor
Can you spare 90 minutes a week to make a real difference in the life of a fostered or adopted child?
---
Mentors must be 22 years old and up.
Be able to make a weekly commitment until mid December 2022.
No horse experience necessary.
Training provided.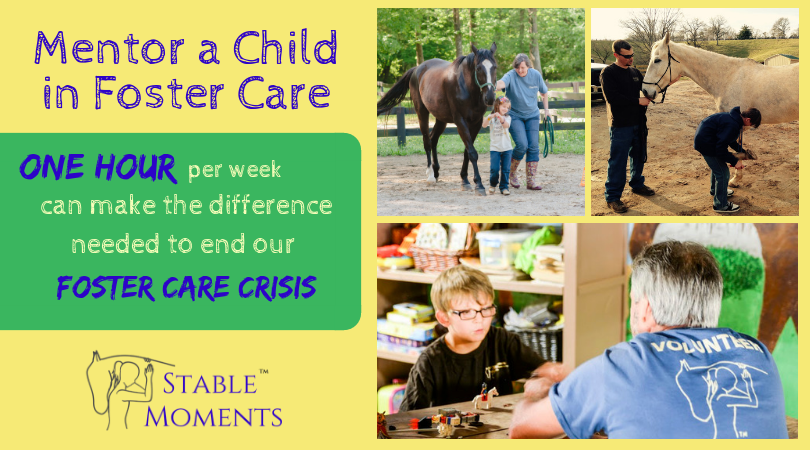 Enroll a child or youth
Offer a child the skills they need to reduce the effects of trauma & be successful in life.
---
For children and youth ages 3-25 years old.
Each child receives a significant program scholarship (75%) thanks to a grant from the Rowley Family Foundation Fund for Woman & Children.
Remaining cost: $20 per week paid monthly.
Child attends Victory Hill for 1 hr weekly throughout the program.
Program runs for 10 months from their start date.
Space is limited. If space is available, children can be registered anytime.